04-25-2017, 07:30 AM (This post was last modified: 01-08-2018, 07:10 PM by sploitworks.)
01-08-2018 - Finally got around to this...
Ok SploitWorks Community, Here is how to setup a basic
ddwrt client mode.
PURPOSE
: To connect the router to the internet using free wifi instead of a physical cable or use as a separate network without needing cat5.
CONS
: Partial Loss of advanced controls for 1 radio, speeds will drop on that radio.
PROS
: No need for a cat5 cable, take advantage of free internet.
Pre-Requisites
: Recommended to start with a factory wiped ddwrt install. This has been an issue in many cases.
Custom firmware like (DDWRT) allows the router to be configured for special configurations like client mode that allow
It is not possible to do this with other stock router firmware.
While the router is in this configuration the built on CAT5 WAN port will not work.
IT WILL ONLY BE ABLE TO GET INTERNET USING A WIFI HOTSPOT LIKE WALMART, STARBUCKS, YOUR FRIENDS (Not always applicable), ETC… NO WIRED CONNECTION to Internet Available.
Essentially what we are doing is using one of the radio's on the router as our WAN/Internet connection.
STEP 1) Pick which Radio you will be using to connect to your free wifi hotspot to use as your internet connection.
In this example we used the 2.4ghz
Step 2) Insert the WiFi SSID of the Free WiFi Hotspot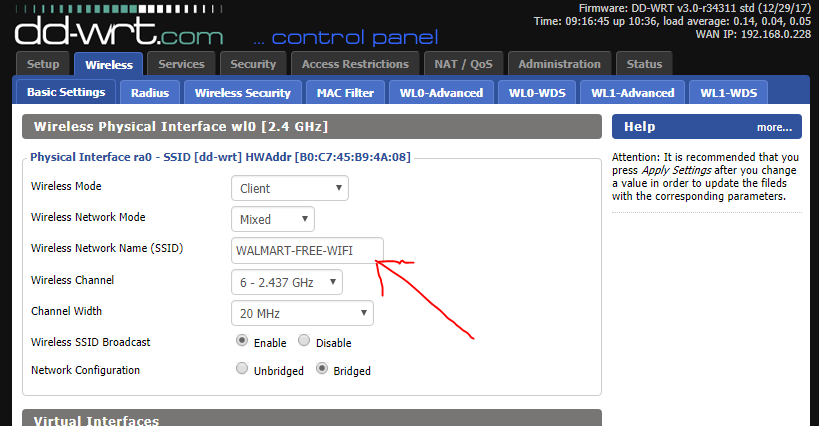 PRESS APPLY
STEP 3) Now if that Free WiFi requires a Password to connect.you have to enter it under the
Wireless Security
Tab
Notice that the "Physical Interface" SSID matches the SSID we entered in Step 2 Above. DDWRT doesnt always list adapters in order. It Depends on your router model.
Also Note that you can "Unmask" your password so you can see what you are typing.
***NOTE*** MAKE SURE YOU TYPE THE PASSWORD CORRECTLY, 99.99% of connection failures are a typo.
Press Apply
Step 4) Now we need to
create a Virtual Interface
 to replace the 2.4 Ghz adapter we dedicated to the bridge. We can still use the 2.4ghz radio even though we dedicated the main function to the client mode.
STEP 5) Now Give your Virtual Interface a SSID like you normally would for the 2.4 ghz radio.
Step 6) Now go to the Wireless Security tab and double check your WiFi security to make sure your wifi access to your router is setup properly.
Default for most standard wifi is as pictured below.
Reboot your router
Explanation of what happens.
After the reboot, your router should attempt to use the 2.4ghz (or 5ghz if that's what you chose to use) as the WAN connection and connect to the free wifi hot spot just like your laptop/cellphone/other wifi adapters usually do when they connect to a router.
This allows you to use your router anywhere in the world wirelessly.
This kind of configuration is usually used by customers who travel, especially with RV's to campgrounds who want a secure way to still connect their devices on their own router.
With this setup you can still install a VPN on the router and be further protected when traveling!
HOW TO TELL IF IT IS WORKING.
In the top right corner of the ddwrt web GUI, you have a WAN Ip Address. If it is all 0.0.0.0 it did not connect.
Check the SSID name or Password.
If you have a IP there that is not 0.0.0.0 it is likely you connected. Yay!
You should be able to get internet access through your devices.
Need Help or is this above your pay grade?
Contact us! We consult for affordable prices.